Having the right mindset is always proposed as the most important requirement to becoming successful online. I am not the type of person to partake in 'daily affirmations' or read a lot of 'feel-good' kind of information. However, I do consider myself to be a positive person. I do see the glass as half full – well, on most days I do!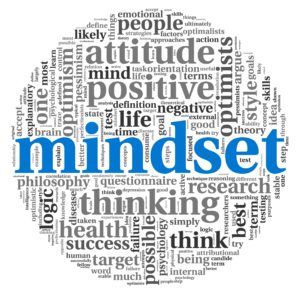 So, in the interest of staying with the right mindset, rather than focusing on the wrong mindset, here are the three most crucial principles that I try to focus on:
~  Always seek to help others
~  Be positive – can do, not can't
~  See opportunities, not problems

It is important when you are working online to always concern yourself with helping others. The basic reason that it is possible to make money online is because people will always have problems they need help with, or new things they want to learn. If you focus on identifying a common problem and providing a solution, you gain more than a sale – you gain the satisfaction and fulfillment that comes from helping others. If you concern yourself first with helping others, the sales will follow naturally, so don't let money be your primary motivation.
That is also a good example of being positive. It is hard to remain positive when all you concern yourself with is how much money you are making. I would consider that a negative focus. True, it is important to celebrate your successes, even small ones, but money isn't the only gauge of success. All I am saying is that helping others is usually more uplifting than making a bit of money.
Next, try to eliminate the word can't from your mind. There is always a way. The only reason you can't do something is if you don't try, or you give up. Sometimes when you feel something is impossible, it helps to walk away for a bit, and come back with a clear head. Or ask for help! There is no reason you have to go it alone.
Another important mindset to practice is to challenge yourself to see roadblocks and problems differently. Every problem that comes up is an opportunity for you to grow and become stronger. Solving problems is one of the best ways for us to learn. The satisfaction you feel when you finally solve a problem or break through a roadblock is always worth the effort you put into it. You become stronger, smarter, more confident, and closer to becoming the expert you claim to be, am I right?!
Of course, there are more mindset principles worth practicing, but I feel these three are the most important for me. If you focus on these three things you will be making strides in the right direction. Feel free to share below any mindset principles you feel are important to practice.
If you received value from this post please like, tweet, & share this page.
Also, please leave your questions and comments below…